Please click F key on your keyborad to enter full screen.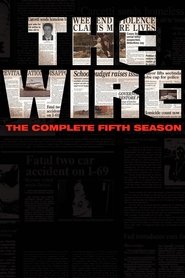 The Wire Season 5 Episode 1
"The bigger the lie, the more they believe." – Bunk Moreland
McNulty and the detail continue to stake out Marlo and his crew. Recently promoted Sergeant Carver is met with complaints concerning unpaid overtime. Meanwhile, Haynes deals with cutbacks, but is still able to expose a politician's connection to a drug dealer; and Joe, Marlo, Fatface Rick meet to divide up the drug trade across Baltimore.
Views: 895
Serie: The Wire
Director: Joe Chappelle
Guest Star: Amy Ryan, Benjamin Busch, Bruce Kirkpatrick, Delaney Williams, Felicia Pearson, Method Man, Michael Kenneth Williams, Mike D. Anderson, Rick Otto, Sam Freed, Tom McCarthy
Episode Title: More With Less
Air Date: 2008-01-06
Year: 2008